Sit Back and Relax: The Boss is on Vacation
Believe it or not, Constant Contact was down all day on Friday, so the Weekly Report is three days late.
Happy Monday! Molly Quarles, VP of Operations here, writing Dave's Weekly Report since he was out galavanting on a beach somewhere.
#RealLife #NotPhotoshopped
I figured it's only fair to let @madmain have a vacation every now and then, and I promise, we didn't burn the place down while he was away.
Many of you I have met personally, and if I haven't, I'd love to! Dave is always out and about, but I'm behind the scenes while he is plotting to take over the creative universe and doing all of the fun stuff.  We started our week early, as in, last week never really ended…
Saturday (4/12) AM – I couldn't let Dave enjoy an entire week of vacation, so I forced him to come in on Saturday to help Geoff, Katie, Kelley, Lindsey, Sarah and myself with the office Spring Cleaning. We organized, donated, trashed and recycled to get our files, closets, basement and supply room tidy. I have to boast: Madison+Main is so lucky to have amazing people that pitch in whenever needed. Whether for our clients, for each other, or even when I ask that they clean out the basement on a gorgeous Saturday, this team offers it all. Need anything? Just ask; the Main-iacs will make it happen!
Saturday (4/12) PM through Sunday (4/13): Eat, Sleep, Party, Repeat. Cleaning all day on a Saturday deserves a bit of fun, right?
Monday (4/14) – Digital Marketing Manager Dorsey McFadden, VP of Brand Strategy Kara Forbis and Marketing Administrator Lindsey Durfee strategized our Madison+Main social media plan to make sure we are on top of our platforms and utilizing our online presence as much as possible. We continually focus on learning the newest techniques to stay ahead of the steady changes online. Have a question about Facebook ads or want to optimize your presence on Google? Ask Dorsey, she's our Certified Google Adwords Expert who lives and breathes this stuff: dorseym@madisonmain.com.  #itsbananas
On Monday, MarCom Executive Sarah Murphy hit the PR trail hard on behalf of our client, Virginia Ear, Nose & Throat. The four-location practice just added top of the line Xoran MiniCAT CT Scanners to their West End and Midlothian locations, allowing for quicker, more accurate scans at a lower cost to patients. We love clients who are ahead of the curve; they just make our jobs easy. 
Tuesday (4/15) – Moan, groan, it was tax day. But I won't bore you with that–instead, let's focus on the positive! Our client Richard Bland College of William & Mary has extended their application deadline until May 1st, 2014.  Did you know that Richard Bland College is Virginia's only two-year residential college with automatic transfer agreements with almost every college and university in the Commonwealth? If you known someone looking to further their education at Richard Bland, they can apply here: RBC.edu/apply.
Wednesday (4/16) – On Wednesday, Account Manager Kelley Miller and Marketing Administrator Lindsey Durfee had the pleasure of taking Village Bank Marketing Specialist Lauryn Adams "out to the ball game." The trio took in a noon game at the Diamond and saw the Squirrels defeat the Reading Fightins, 4-1. Special thanks to Ukrop's Dress Express for the tickets!
Working hard, or hardly working?
Thursday (4/17) – Our Account Managers and Creative Team conducted intern interviews for our upcoming summer internship program throughout the day on Thursday. Think you know what it takes to be a Madison+Main intern? Stay tuned for the recruitment video our current interns (Dingles, Mullet, Dragon Ballz and Cheeeetah) are creating this semester.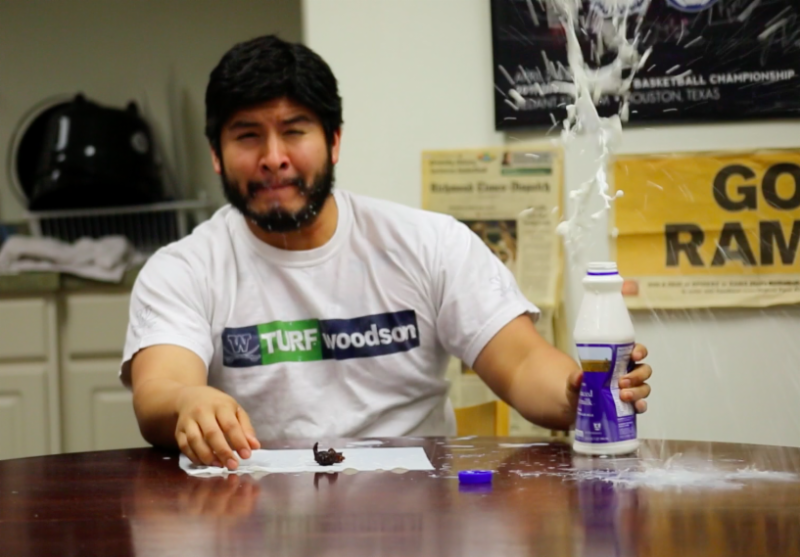 A sneak peak of the video our interns created. Full video coming soon!
Friday (4/18) – On Friday, Art Director Geoff Glisson, VP of Brand Strategy Kara Forbis and Senior Account Manager Katie Hurst joined me for a short presentation about an awesome new project management software to help make sure we are working as efficiently as possible behind the scenes. What tools do you use to keep organized professionally or personally? If you don't utilize any, check out the 99 Sites That Every Professional Should Know About and Use to get you started.
In all, it was a solid, productive week at Madison+Main, even without the Bossman around. That said, we're excited to have our creative and fearless leader return. So, Dave, if you have a moment to look up from your margarita and check your email, all the Madison+Main-iacs say: Love ya, Miss ya! #MeanIt
David Hasslehoff-Saunders
Wishing everyone a fabulous week!
Molly Quarles
VP of Operations
Madison+Main